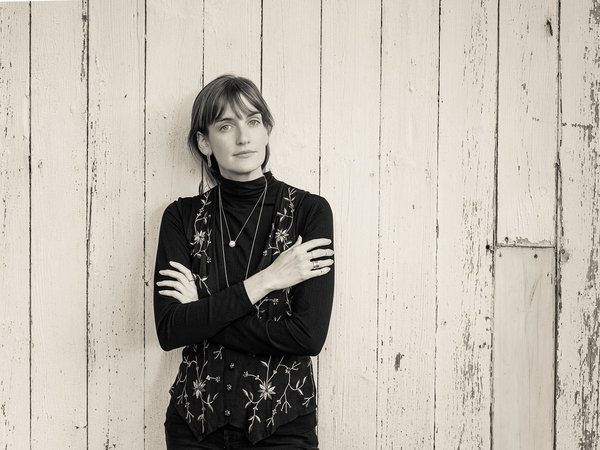 Portrait by David Heald
Midge
(b. 1990) is an artist based in Brooklyn. Her work in photography and ceramic sculpture explores the elements of light, time, and surface as both material and subject. She has a
BFA
from the Rhode Island School of Design. Much of her work has been shaped by her experience living in Italy. In 2017, she was awarded a Fulbright scholarship in photography based in Sicily where the island's ancient cultures and surreal bodily landscapes deeply influenced her way of seeing. She is represented in Europe by Francesco Pantaleone Arte Contemporanea in Milan and Palermo.
Solo Exhibitions:
In the Painting Room
The Milton Resnick and Pat Passlof Foundation
87 Eldridge Street
2021 *current
Scirocco
Il Consolato Generale d'Italia
690 Park Avenue, New York
2020
Passages
curated by Agata Polizzi
Francesco Pantaleone Arte Contemporanea
Palermo, Italy
2019
Group Exhibitions:
Fittile
Francesco Pantaleone Arte Contemporanea, Palermo, Italy
2020
Focal Points: Women Advancing the Aperture
The Delaware Contemporary Arts Museum, Wilmington
2020
Living Image
curated by Kris Graves
The Halide Project, Philadelphia
2020
Art Trekking curated by Glorianda Cipolla
Monte Bianco Montagna Sacra
, Courmayeur, Aosta, Italy
2019
Miart Milan
Booth
D20
, FPAC Gallery, Milan
2019
Castelbuono Paese Mediterraneo curated by Costanza Carzo
Il Museo Civico di Castelbuono, Castelbuono, Sicily
2017
Due South
curated by Marianne Bernstein
Delaware Contemporary Arts Museum, Wilmington,
DE
2017
Offertorio
curated by Francesco Pantaleone
Francesco Pantaleone Arte Contemporanea, Palermo, Italy
2015
RISD

In Rome: European Honors Program
Woods Gerry Gallery, Providence, RI
2014
At This Point / a group show
curated by Wen-You Cai
If and Wen Space, New York,
NY
2014
Facades and Replicas
Red Eye Gallery, Providence,
RI
2012
A Family Portrait
Palazzo Cenci, Rome, Italy
2011
Awards & Residencies:
89books Residency & Catalogue
89books publishing house, Palermo, Sicily,
IT
October 2018
American Cyborg Artist Residency
Aspen, Colorado,
USA
January 2018
Fulbright & Vinciguerra Award
U.S. Foreign Scholarship to Italy, Fine Arts/Photography
Palermo, Sicily, IT
2016-2017
Peter S. Reed Foundation Grant
Award for achievements in the field of Photography
New York, NY
2015
Publications & articles:
Art In America.

ONE WORK

: MIDGE

WATTLES

'S "VENUS" by David Ebony
2021
Artribune. La Sicilia di Midge Wattles in mostra al Consolato Generale di Italia a New York by Francesca Magnani
2020
Balarm. Lo "Scirocco" arriva a New York: le bellezza della Sicilia in mostra al Consolato Italiano by Giuliana Imburgia
2020
FORMEUNICHE

. Il rigore e l'eleganza nelle fotografie di Midge Wattles in mostra alla Galleria Francesco Pantaleone di Palermo by Sasha Taormina
2019
89books Folio:
Passages & Oxalis
by Midge Wattles
2018
Aint Bad Magazine: An Independent Publisher of New Photographic Art. Staff Picks: Midge Wattles published by Anna Brody.
2015
Lenscratch. Young and Emerging Artist Series, Midge Wattles: Lineage by Grant Gill.
2014
The Shin Bijutsu Shinbun Review. From New York, At This Point by Dr. Tomii Reiko.
2014